Playing the Fool
Biblical ways people play the fool
This series of sermons is based on 1 Samuel 26:21 where Saul said to David, "I have sinned. Return, my son David. For I will harm you no more, because my life was precious in your eyes this day. Indeed I have played the fool and erred exceedingly" (NKJV).
Men play the fool by:
Mixing Old Testament and pagan works into the Gospel.
Despising a fathers instruction.
Hearing but not doing what the Lord requires.
Being wise in your own eyes.
Trusting in earthly riches.
Claiming "There is no God."
Mocking sin.
To preserve some complex font display, the first lesson is in Adobe format.
--Steven J. Wallace
Lesson
Author
Date
File

Introduction with Points 1-3

Wallace, Steven
2018.03.04
mp3, pdf
Wise In Your Own Eyes

Wallace, Steven
2018.03.04
mp3, pptx
Trusting In Earthly Riches

Wallace, Steven
2018.03.11
mp3, pptx
"There Is No God"

Wallace, Steven
2018.03.11
mp3, pptx
Mocking Sin

Wallace, Steven
2018.03.18
mp3, pptx
Revelation And Creation

PowerPoint

and Audio Material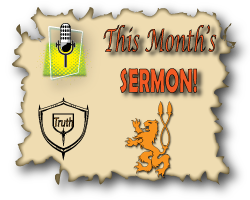 Two lessons about HOPE in an acrostic approach. Hope is the anchor of the soul that ascends into the immovable Presence of God (Heb. 6:18-20). What does this mean to us today as we face trials of uncertainty, fear, death, separation, etc.?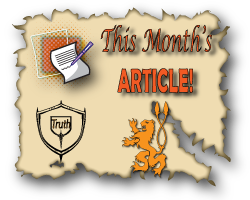 What is new and refreshing about being "in Christ"? Article based on 2 Corinthians 5:17.