About This Site
COMMITTED:
This site is committed to the goal of furthering the education of the Bible as well as defending the integrity of the Scriptures.
PERMISSION:
You are granted permission to use the materials on this site for your personal study as well for the use of private Bible studies, bulletins, and public presentations pending you do not alter the material. Minor editing is permissible as long as the message and intent is not changed. This permission allows you to use what you deem worthy for your private or public use.
Permission is granted to merge these materials into your own work as long as you do not alter the material you use. We expect those who use this material to abide by the rule of Matthew 7:12, "Therefore, whatever you want men to do to you, do also to them, for this is the Law and the Prophets."

You may not charge for these materials unless permission is granted.
---
NKJV:
All scripture quotations found on this site are from the New King James Version of the Bible unless noted.
Thank you for using this site. May God richly bless you in your studies.
LINK TO US:
We ask that if you use this site's material, that you kindly consider to reference the author and this site in your work. A link to this site on your website would be most appreciated.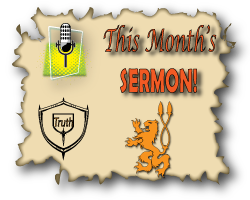 Five sermons to investigate and expose the claims of Joseph Smith, Jr. here: Mormonism