Job, Behemoth & Leviathan
A look at Job and the Power of God's Creative Hand
Were the creatures Behemoth and Leviathan real dinosaurs? Were they imaginary or mere symbols of legend? This series provides positive proof of the historical existence of these and other animals and how they pertained to Job's predicament of suffering.
Lesson
Author
Date
File

Lesson 1

Wallace, Steven
2013.10.27
pptx, mp3
Lesson 2
Wallace, Steven
2013.12.26
pptx, mp3
Lesson 3
Wallace, Steven
2014.02.02
pptx, mp3
Lesson 4
Wallace, Steven
2014.02.23
pptx, mp3
Lesson 5
Wallace, Steven
2014.03.16
pptx, mp3
Lesson 6
Wallace, Steven
2014.04.06
pptx, mp3
Lesson 7
Wallace, Steven
2014.05.11
pptx, mp3
Revelation And Creation

PowerPoint

and Audio Material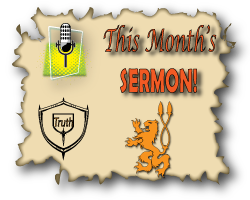 Sermon series on the prodigal son and his older brother. What is the meaning of the parable? Why did Jesus speak this? What is significant about the younger son? What is the meaning of the older son? Come study Luke 15! Outline and charts are supplied.