Do We Look For Another
Choosing the Messiah of the Scriptures as Your Lord
This series looks at things that will take people away from the Christ of Scripture to a substitute or false Christ. It is based on John's doubt filled question in Matthew 11:1-3. Consideration is also given to the misplaced love of Demas with an interesting quote from Polycarp that clearly references 2 Timothy. Additional rejections are identified from pride. God's choices clearly fly in the face of human pride. Sermon notes are supplied here: pdf.
These articles are sortable. Just click on the Lesson, Author, Date or file tab to sort.
Lesson
Author
Date
File

Doubt and Misplaced Love

Wallace, Steven
2019.01.13
mp3
Pride - The Offense of Nazareth
Wallace, Steven
2019.01.13
mp3
Pride - The offense of Trade, Family, Training, Company, and Hard Preaching
Wallace, Steven
2019.01.20
mp3
Revelation And Creation

PowerPoint

and Audio Material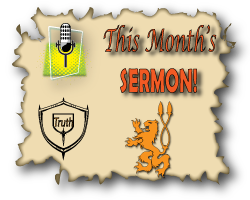 Sermon series on the prodigal son and his older brother. What is the meaning of the parable? Why did Jesus speak this? What is significant about the younger son? What is the meaning of the older son? Come study Luke 15! Outline and charts are supplied.